Founding Vision
Aeroxchange was founded in July 2000 by a group of 13 major global airlines. The founding vision was for a neutral platform to support internet-based electronic supply chain transactions between buyers, their partners and sellers - a goal that would have been unattainable by any one airline acting alone.
Automating the exchange of business documents, such as purchase orders, shipment notices and invoices, creates efficiency in supply chain operations for participating buyers. Specific industry business processes, such as inventory pooling and aircraft-on-ground (AOG) service recovery, can be addressed with the efficiency of internet-based communications, significantly reducing phone calls, emails and faxes.
Existing industry standards, such as SITA, for Electronic Document Interchange (EDI) do not extend to processes outside basic procurement. Repair orders that involve complex exchanges of material and have special tracking needs could not be supported by existing EDI standards. Aeroxchange exists to extend the power of EDI and internet communications to support the entire range of maintenance, repair and overhaul (MRO) supply chain processes.
As a neutral platform, Aeroxchange is able to protect the privacy of participants and deliver new levels of supply chain efficiency to a cost-conscious industry. The founding vision has been fulfilled and further extended since the creation of the company over a decade ago.
The Law of the Network
In a marketplace of buyers and sellers, the cost for each participant to establish relations with all other participants is high. The same is true in an electronic marketplace where each participant must establish individual electronic channels of communication with every other participant.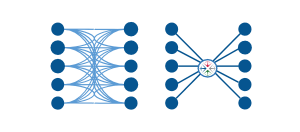 Aeroxchange was created to function as a market hub, acting as a single point of connection for all participants. In this capacity, Aeroxchange vastly simplifies participation for all parties. Aeroxchange "translates" the electronic business documents from one trading partner into a format acceptable to the opposite party. Aeroxchange also maintains a common system of record with transaction time stamping for market operations. Security and encryption established once with Aeroxchange enables secure communications between all other parties.
The value of this network expands exponentially as the number of participants expands. This is known as Metcalf's Law. The value of participation on Aeroxchange has expanded rapidly as participation has grown to include the leading airline carriers and thousands of suppliers supporting transactions for millions of aviation parts and services.
Inclusivity
Aeroxchange supports three types of electronic interaction with Buyers and Sellers. The breadth of these options is designed to assure the greatest participation in a supplier network. Buyers can be assured that quotation requests, orders and updates will reach 100% of their supplier network through Aeroxchange.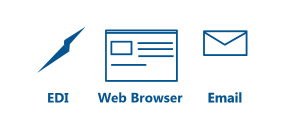 Full electronic messaging integration is the most streamlined connection option. The Customer's ERP system can be directly integrated with Aeroxchange fully automated interaction using legacy EDI and newer internet-based formats, eliminating the need to re-key data.
Other participants can conduct business on Aeroxchange through a web browser. This gives access to the full functionality of the business network with real-time visibility and tracking of transactions.
Buyers may chose to interact with suppliers through Aeroxchange's automated email interface. Requests for price quotations, purchase orders and change orders can be sent on a buyer's behalf automatically by email to even the smallest suppliers directly from Aeroxchange, sparing the buyer from conducting manual interactions.
Growth
Aeroxchange has grown steadily year after year in number of participants, transaction volume and number of business processes supported. Competitors on the landscape only have been able address pockets of the complete package that Aeroxchange offers. No other electronic network exists to serve the breadth of business processes, ranging of transactions partners or depth of automaton provided by Aeroxchange.
The growth of Aeroxchange over the last decade and more has been fueled by the demonstrated efficiency we deliver to participants. We call this the Aeroxchange Advantage in the aviation MRO suppy chain.