About Aeroxchange
OVERVIEW
Aeroxchange is the only electronic business network that supports all MRO business processes within the aviation industry for buyer and sellers. Aeroxchange provides a complete lifecycle of electronic communication from order creation to final invoice. The Aeroxchange service accelerates repair, replenishment, sourcing, inventory pooling and other critical operations in the aviation supply chain.
Aeroxchange automates the exchange of documents and information for commercial transactions. Our electronic platform dramatically reduces manual activity for transaction processed by fax, telephone and email, and increases the accuracy and timeliness of information and document exchange.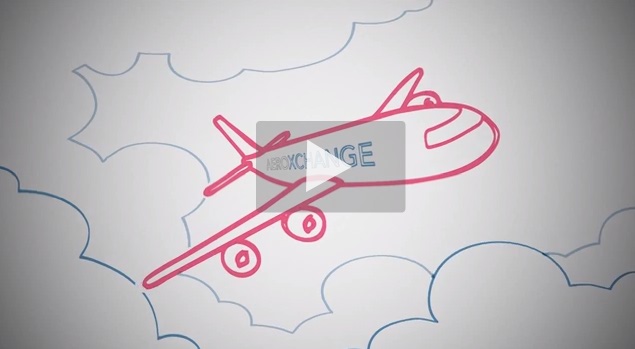 For airlines and buyers, Aeroxchange creates supply chain efficiencies for complex procurement of maintenance, repair and overhaul (MRO) goods.
Reduced Turn-Around-Times for repairs and replenishment by eliminating the delays and errors of manual processing.
Broader price discovery by increasing the portion of spend presented to suppliers for competitive bids.
Increased asset utilization by providing up-to-the-minute visibility of loan, borrow and exchange transactions with partners.
For sellers and repair service providers, Aeroxchange creates sales channel efficiencies by broadening visibility of inventory and capabilities and streamlining the order process.
More business opportunities with up-to-date catalogues instantly visible to thousands of buyers.
Greater customer satisfaction with supplier performance made visible in real-time.
Faster time to payment by increasing the accuracy of invoicing.
SERVICE OFFERING
Aeroxchange provides a platform for buyers and sellers to conduct commercial transactions for procurement of aircraft parts and repair services.
The Aeroxchange service enables participants to perform loans, borrows and exchanges of aircraft parts based on pre-arranged agreements between partners. Aeroxchange facilitates the discovery and tracking of materials in and out of inventory pools and also provides a platform for monitoring and measuring performance against pooling agreements.
Additionally, Aeroxchange provides a platform for strategic sourcing of materials, including a platform for issuing, tracking and evaluating RFQ, RFI, RFE and other pricing requests. This capability encompasses forward and reverse auctions and other complex tendering operations. Advanced tender analytics provides support for multi-variable bid evaluation and award.
CUSTOMERS
Millions of transactions between thousands of aviation businesses are conducted on Aeroxchange every year. Airline participants represent more than half of all global passenger revenue.
Representative airlines include Delta, Emirates, Lufthansa, Japan Airlines, British Airways, Air France KLM, Air Canada, American Airlines and Cathay Pacific. Aircraft manufacturers such as Airbus, Boeing, Embraer, Bombardier, Fokker and others participate, as do major component manufacturers such as Pratt & Whitney, Honeywell and Rolls Royce.
FOUNDING VISION
Aeroxchange was founded in July 2000 by a consortium of 13 major global airlines. The founding airlines envisioned a neutral exchange platform to support internet-based electronic supply chain communications between airlines, their partners and suppliers.
Aeroxchange was created to function as a market hub, acting as a single point of connection for all participants. In this capacity, Aeroxchange vastly simplifies participation for everyone. Aeroxchange "translates" the electronic business documents from one trading partner into a format acceptable to the receiving party. Aeroxchange also maintains a common system of record with transaction time stamping for market operations. Security and encryption established once with Aeroxchange enables secure communications between all parties.
PRIVATE
Transaction data remains strictly private to the transacting parties. Data encryption and security is maintained to bank-level standards. Aeroxchange DOES NOT share information on buying or selling activity with any other party. As a neutral third party, Aeroxchange DOES NOT get involved in the business process.
INCLUSIVE
Aeroxchange supports three types of electronic interaction. The breadth of these options is designed to assure the greatest participation in a supplier network. Buyers can be assured that quotation requests, orders and updates will reach 100% of their supplier network through Aeroxchange. Sellers will find their easiest on-ramp to EDI and the next generation of electronic commerce.
Full integration is the most streamlined connection option. Buyer's and Seller's ERP systems can be directly tied to Aeroxchange for completely automated interaction, providing end-to-end electronic communications and avoiding the need to re-key information. Legacy EDI communications are supported as well as newer, Internet-based XML document standards.
Other participants conduct business on Aeroxchange through a web browser. The browser interface gives access to the full functionality of the business network with real-time visibility and tracking of transactions.
PERFECT VISIBILITY, PERFECT MRO COMMERCE
Supply chain transactions across the Aeroxchange Network are fully visible to transacting parties with real-time updates and time stamps. Supplier performance is easily measured and readily available based on a common view of transaction information.
Accuracy and timeliness are hallmarks of commercial transactions on Aeroxchange. These qualities are the foundation of our vision of perfect MRO commerce. This is the Aeroxchange advantage in the aviation MRO supply chain.