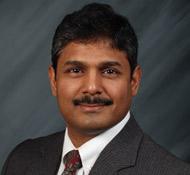 Dr. Srinivas Maddipudi
Chief Information Officer and Vice President of Service Delivery
As Chief Information Officer (CIO) and VP of Service Delivery, Srinivas is responsible for Technology and Product operations in providing a highly available and secure IT infrastructure to serve Aeroxchange products to its worldwide customer base. As a member of the executive management team, he works with the CEO in aligning the Information Systems with strategic company goals.
Srinivas has been with Aeroxchange since 2001 in various roles spanning all areas of Information Technology. He currently manages six teams covering applications development, corporate and production infrastructure, B2B messaging, database administration, and customer support for Aeroxchange products. He also directs, a Solution Delivery Team that interfaces with the global customer base to deliver the ERP integration, training, and product enhancements required for successful implementations. Srinivas and his team work closely with Sales and Product Management to design, architect and develop the world class Aeroxchange suite of solutions in its software as a service model.
Prior to Aeroxchange, Srinivas designed and implemented multi-user software systems at Boeing Aerospace and Defense. He also supported high availability systems and database clusters at Microsoft, and as a database consultant he participated in the development and implementation of various e-commerce applications. Early in his career, Srinivas spent six years as a Professional Engineer designing bridges for high impact loads.
Dr. Maddipudi earned a Ph. D. in Structural Engineering and Masters in Computer Science from Louisiana State University. He holds a second Masters in Structural Engineering from Indian Institute of Technology - Chennai, and a Bachelor's in Civil Engineering from GITAM College of Engineering. Srinivas currently resides in Dallas, Texas.