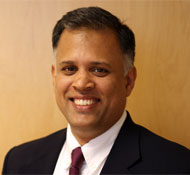 Narayan Moni
Chief Product Officer
As Chief Product Officer, Narayan is responsible for the strategy and direction of the products and solutions offered by Aeroxchange. Under his leadership, the Product Management team collaborates directly with customers to study the global aviation supply chain and the hurdles that trading partners face. This knowledge is applied towards creating solutions to help aviation partners implement best practices to improve efficiency and productivity.
Narayan joined Aeroxchange in 2002 with extensive experience in project management, software design and development. Prior to joining Aeroxchange, Narayan worked for Enron helping them develop software solutions to help manage the deregulation of the electrical energy markets. Before that, he worked for software companies such as Computer Associates and Platinum Technology where he honed his software skills.
Narayan holds a Masters in Business Administration from McCombs School of Business at University of Texas at Austin, a Masters in Computer Science from Louisiana State University and a Bachelor of Mechanical Engineering.